Fort Wayne Summer Spots - Great Places to Go that Not a Lot of People Know
Fort Wayne has no shortage of kid-friendly summer activities. There are parks, festivals and camps out the wazoo! But what if you want to go somewhere a little off the beaten path? Where the kids (and you) can spend a lazy afternoon without all of the crowds? There are places you can go, if you know where to look. I'm going to share three of my favorites to get you started.  
1. Lutheran Park and Gardens Just south of downtown, nestled between Fairfield, S. Wayne, Kinnard and Home Avenues, Lutheran Park and Gardens is acres of rolling green lawn and lush landscaping, an anchor for many south central neighborhoods.  Lutheran Hospital began at this site, and when its original building was razed in 1995, the Park was the end result of the transformation. The Park is overwhelmingly green, in a good way, with most of the trees around the perimeter and wide-open space in between.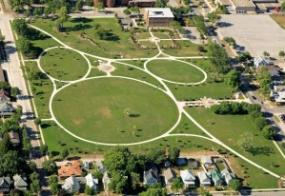 Marked at its four corners with plaques memorializing Lutheran Hospital's history, the Park features a meditation garden with a Healing Christ statue, walking paths and my favorite, a splash pad. "What's so great about a splash pad?" you might ask. Well, I'll tell you. This splash pad isn't fancy; it doesn't have the bells and whistles that some others around town do. What makes it special is that it sits in the middle of a peaceful oasis. It's the perfect ending to a long summer bike ride.  
2. Lawton Park I've never been able to understand why this park is not jam-packed all summer long. It's in a central location, just north of Headwaters Park and just south of Science Central. It is hiding in plain sight! Maybe it's because it sits between two very busy one-way streets, with two entrances that aren't very noticeable . (You turn left on Spy Run, or left on South Clinton, onto Fourth Avenue).
Trust me, it is worth the time to find! The park's almost 40 acres include baseball diamonds, a skateboard park, a huge open area for picnics or kite flying and the Kids Crossing Playground. The playground itself is unique in that it is a scaled replica of the Old Fort. Did I mention that the Old Fort is just a short walk from the playground? My kids are nuts about Lawton Park. In fact, we just had my son's tenth birthday party there not long ago.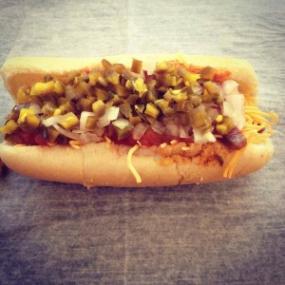 3. The Stand You know what's good after playing baseball or a day at the pool? Coneys and ice cream! And one of the best places around town to get them is The Stand in Waynedale - just enough outside of 'town' to be on the less-crowded side. The Stand is located at 5200 Bluffton Road, right next door to Bobick's Driving Range. Open daily from 11 a.m. to 10 p.m., The Stand has a drive-thru and offers delivery service. The best, though, is the outdoor seating area. There are several tables where you can sit back and really enjoy your dog or your cone. The Stand features a variety of specials, including the dog of the day, frozen yogurt of the week and lots of different dipped ice cream flavors. Think strawberry, cotton candy, cake batter...mmmm...  
So there you have it. Three of my go-to spots for relaxed summer fun. I'd love to hear yours!